Here is my take on the free pattern from the Fat Quarter Shop called "Mini Charm Muffins". It is an easy pattern to follow and it's a great stash buster for those leftover 2.5 inch squares.
I use a small basket to keep all my scrap fabric. Anything that is 6 inches or less will go there. When it gets full, (maybe overflowing full 🙂 ) I start cutting my fabric into squares. I cut them into 5 inch squares, 2.5 inch squares, 1.5 inch squares, and 1.25 inch squares. So needless to say, I had a lot of 2.5 inch squares.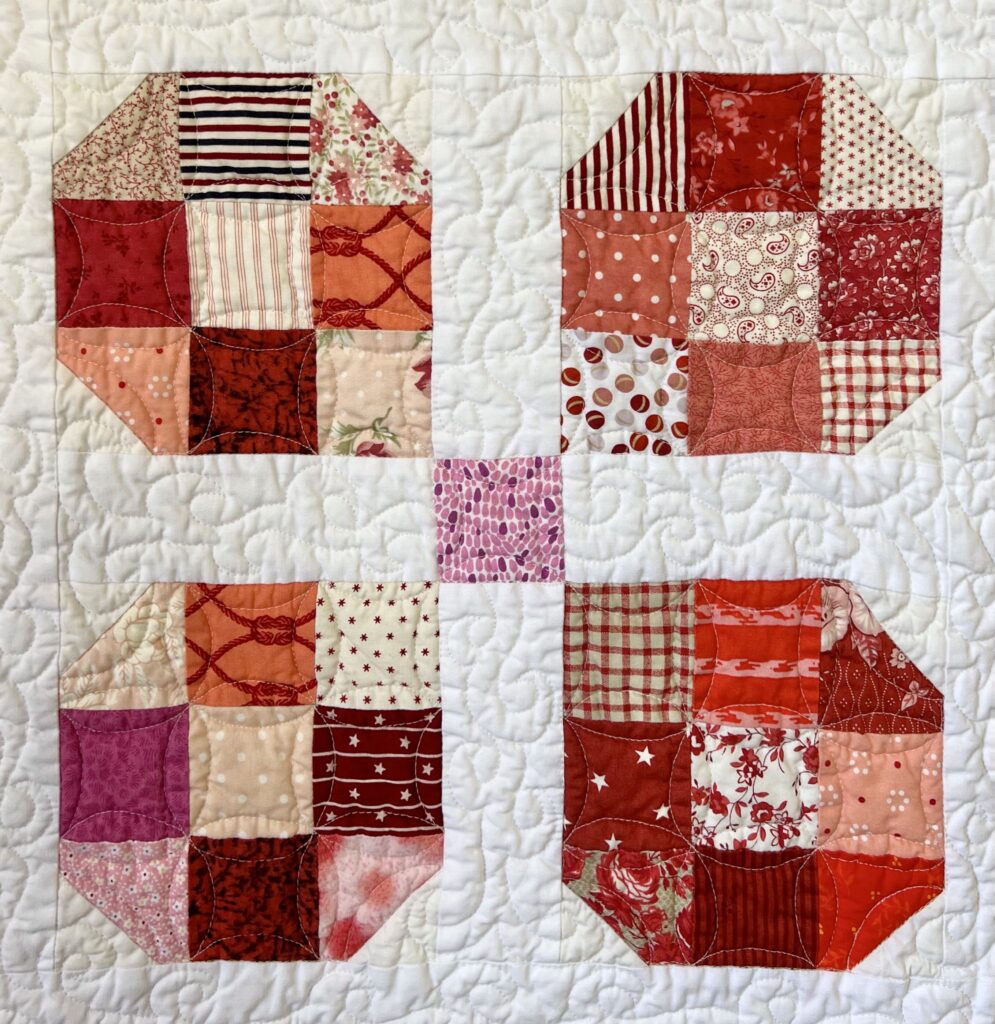 The block starts with 4 Nine Patches using the 2.5 inch squares. Then you do a corner flip on three of the corners. Lastly, sew these blocks into a bigger Nine Patch with sashing and an additional 2.5 inch square. The quilt is pretty quick and easy to make, especially if you use pre-cut squares.
I wanted my quilt to be a little larger than the free pattern. So I added a 4 inch border in pink, floral fabric. I kept the quilting simple in the border and did straight line quilting all the way around. This was eyeballed, so it wasn't perfect.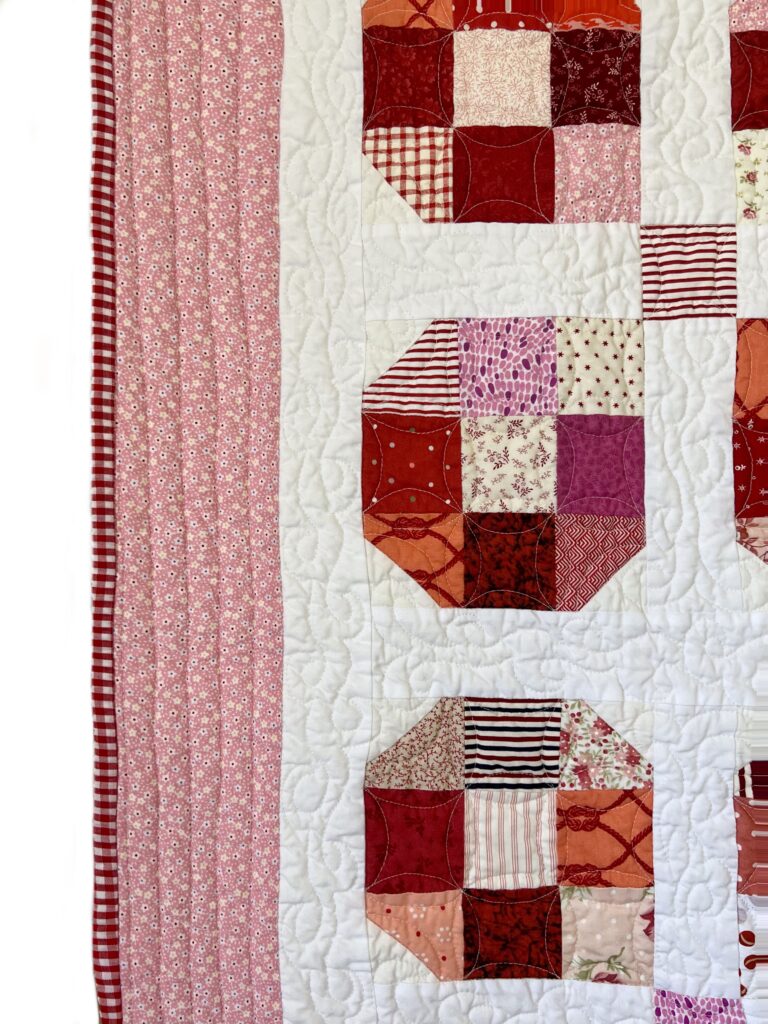 In the squares, I did small curved quilting . I kept it simple because the scrappy fabric would hide most of the quilting.
I found a wonderful tutorial from Helen Godden on YouTube called, "Using a Roadmap for Easy Quilting". It made the quilting so easy to do and was perfect for the sashing and small outer border.
I used a Frixon pen to make the roadmap and used an iron to remove the markings. The best part of this method is how forgiving it is. You do not have to follow the map, just use it as a guideline.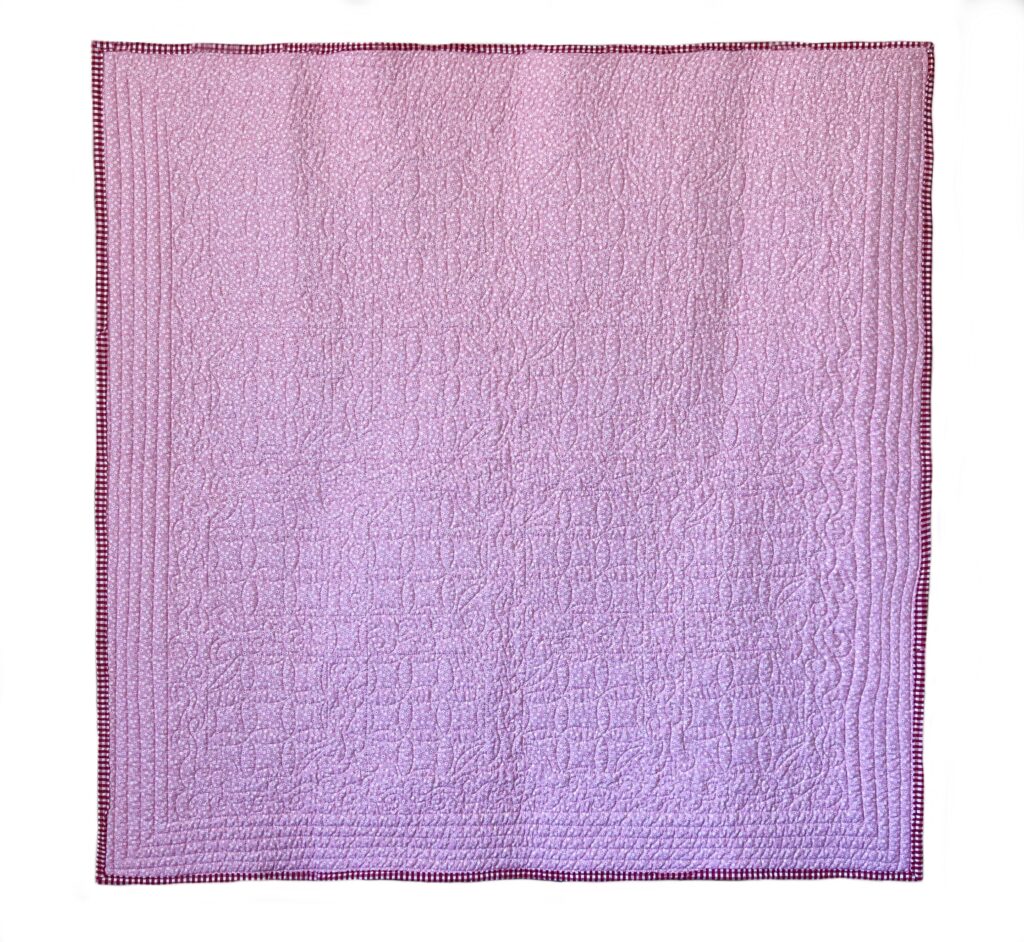 For the back of the quilt, I used the same pink, floral fabric that was used in the border. This fabric is for sale as a fat quarter bundle through my Etsy Store.
Lastly, for the binding, I used a simple red and white gingham that was purchased through Walmart.
I would highly recommend this quilt pattern if you are a new quilter or need an easy baby quilt. Because it is so quick to make, you can experiment with your free motion quilting or it's perfect for a quick gift to make.
If you like this quilt, you can purchase directly through my website or through my Etsy Store.
I hope this gave you some inspiration to make your own quilt. Stay crafty!