I received a fantastic Dresden Plate quilting ruler in my Fat Quarter Shop's Sew Sampler. It included a pattern and a small jelly roll of camping designs. When I saw it, I knew I had to make a Dresden Plate quilt and knock it off my sewing bucket list!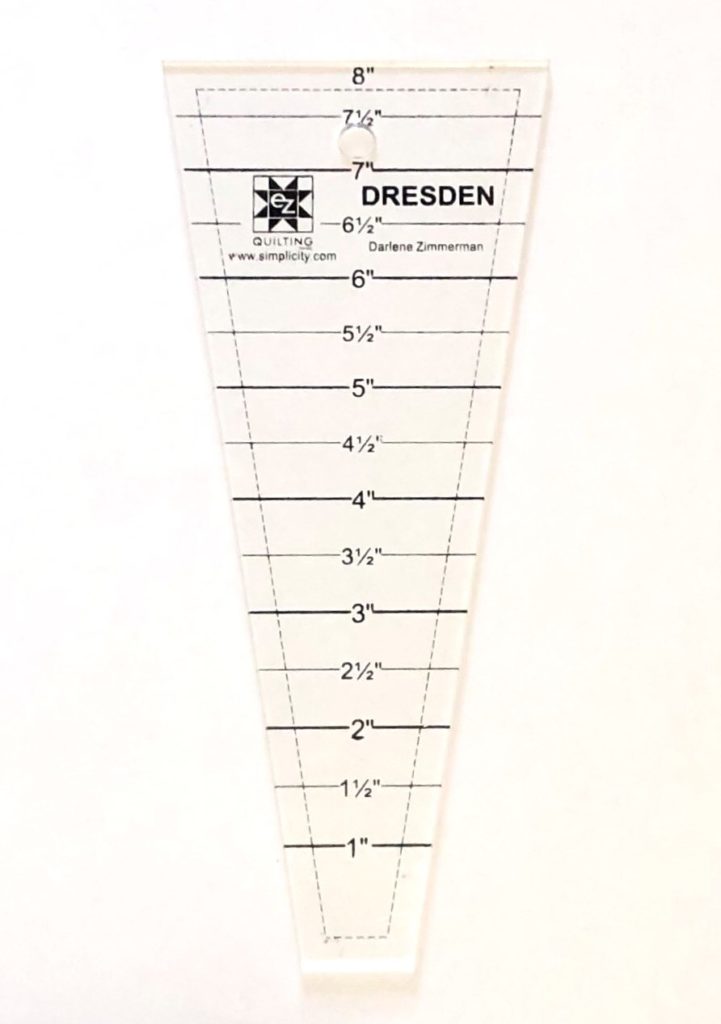 Here's a picture of the Dresden Ruler. If you want one of your own, you can visit the Fat Quarter Shop here.
Now, I don't really like to follow patterns. I like creating my own and I wanted to make a big Dresden block. So I took each strip from my jelly roll and cut them in half. This lets me get a larger variety of strip sets. I then took 3 strips and sewed them together. It didn't matter what order, just as long as it was different fabrics. This created strip sets that were 6.5 inches wide. I used the Dresden ruler and cut 20 petals to make a block.
Once these were cut and sewn together, I hand appliqued them to a yellow background fabric. I'm not going to lie, I really don't like doing hand sewing so it took me much longer than I would like to admit to finish this project. 🙂
Once this was sewn on, I trimmed the block down to 16.5 inches. This made a very big block, exactly what I was looking for. From there, I took 2.5 inch strips of my red fabric and bordered the Dresden block. But I wanted to add a little extra touch to the quilt and decided a checkerboard pattern would make great sashing for the block.
I took 2.5 inch strips of a light pink and white and sewed them together. They were then trimmed at 2.5 inches and sewn together to make four patches. These four patches where then used to make the checkerboard sashing.
Well, it was a perfect size for a baby quilt, but I wanted it bigger! I then took 2.5 inch strips of the red fabric and bordered the quilt then added a 3.5 inch border of yellow around that. It was now the perfect size for me.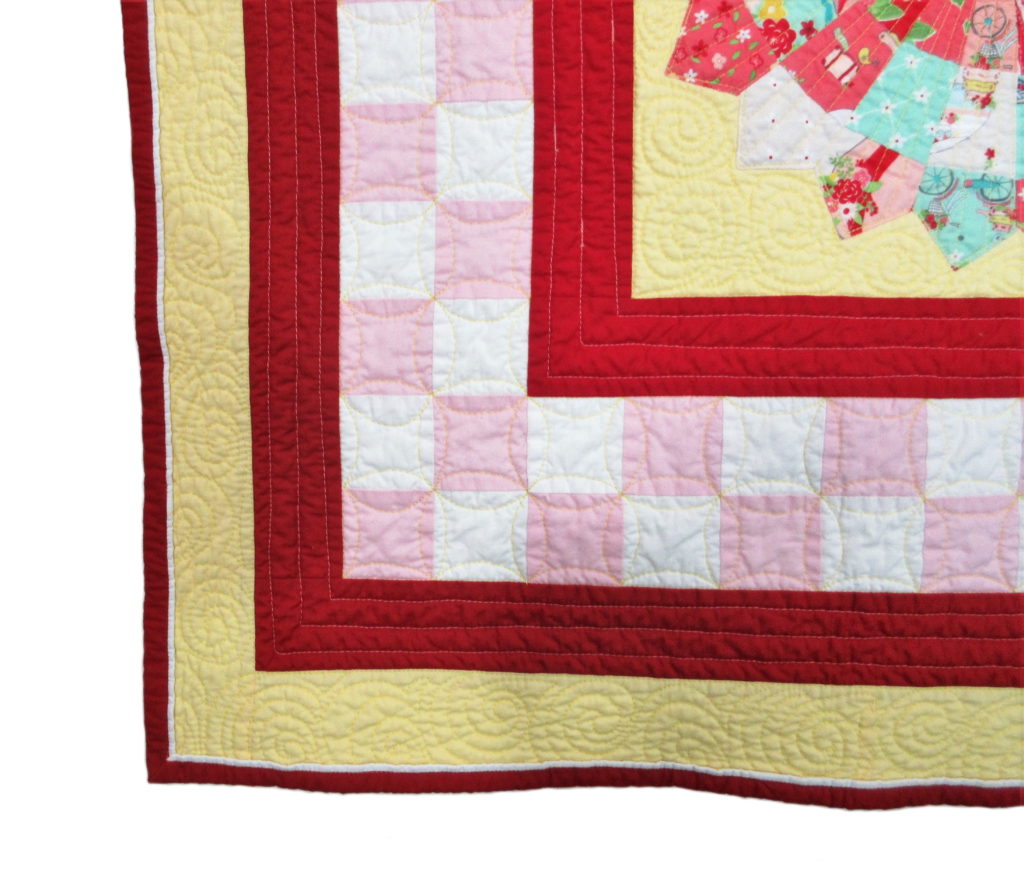 I kept the quilting pretty simple and did straight line quilting on the petals of the Dresden plate with a fun swirl in the center. I then did straight line quilting on all of the red borders. I used a continuous curve design on the checkerboard sashing and finished the background off in swirls. I love quilting things to death, but I don't think I over did it on this quilt. And I'm quite happy with the finish.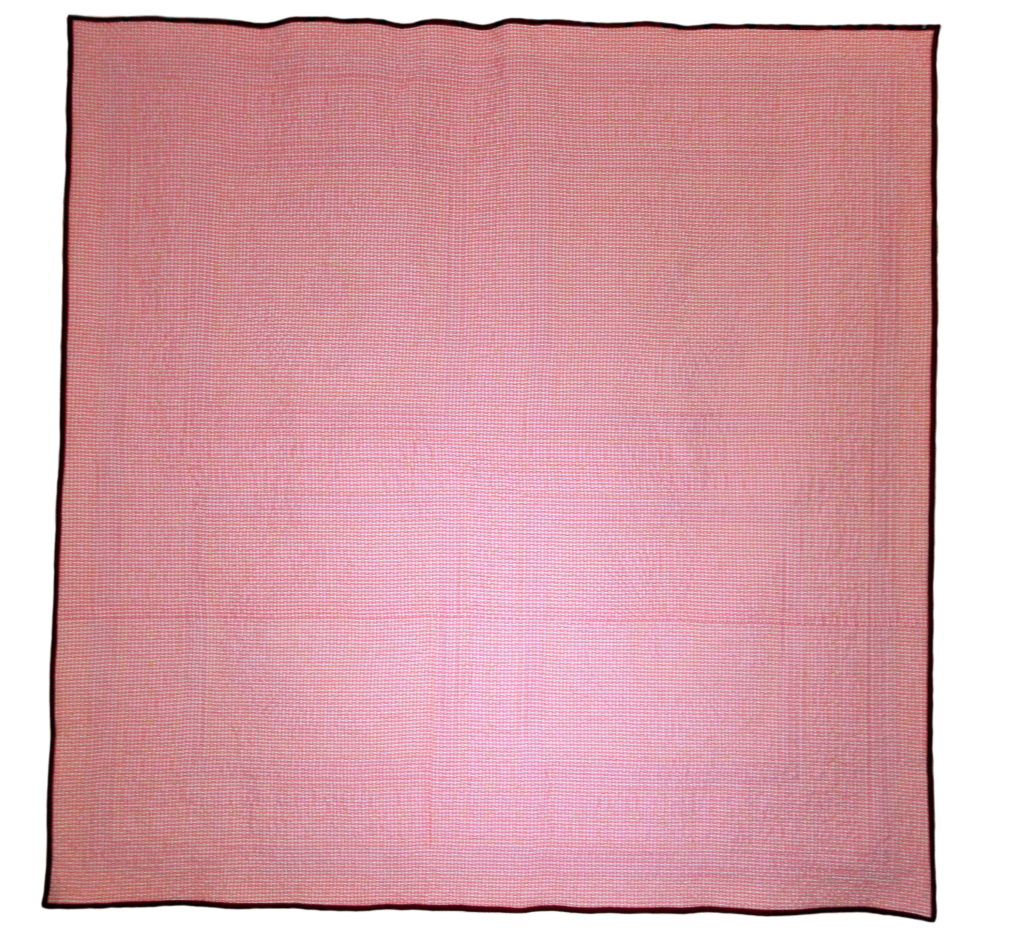 The backing is a simple fabric of pink with white oval dots. You can barely see any of the quilting from the back.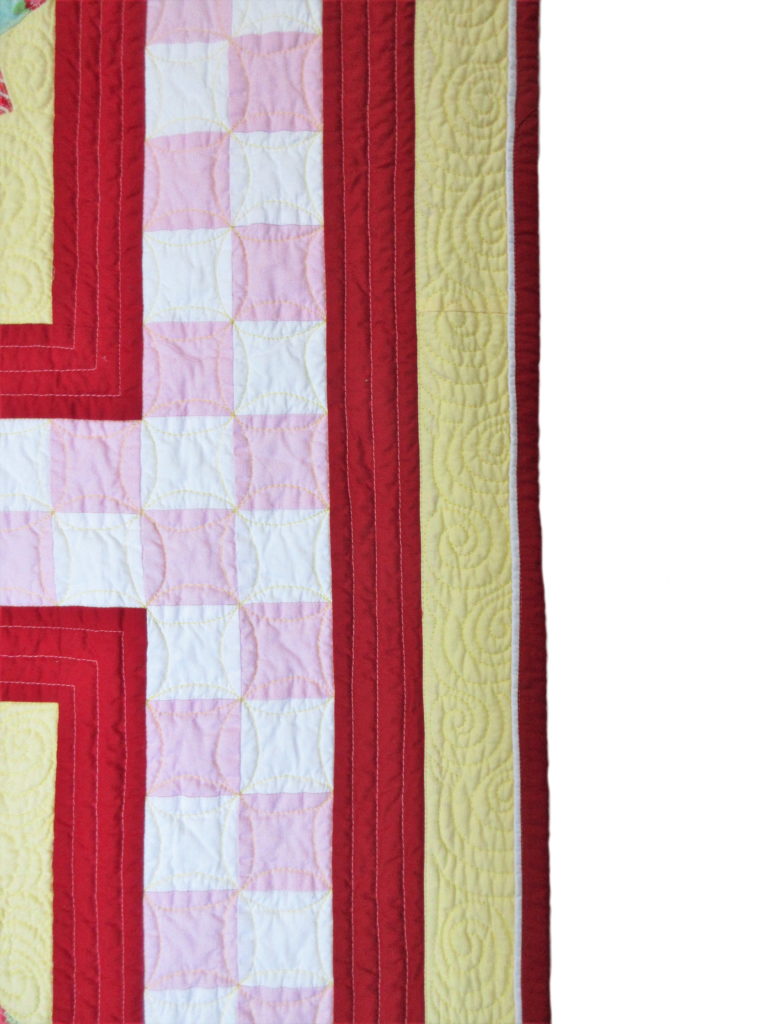 I finished the quilt off with the same red fabric and a white flange binding. If you have never tried flange binding, Fat Quarter Shop has a tutorial with Corey Yoder that goes over the technique. It takes a little longer to do, but the results are extremely polished.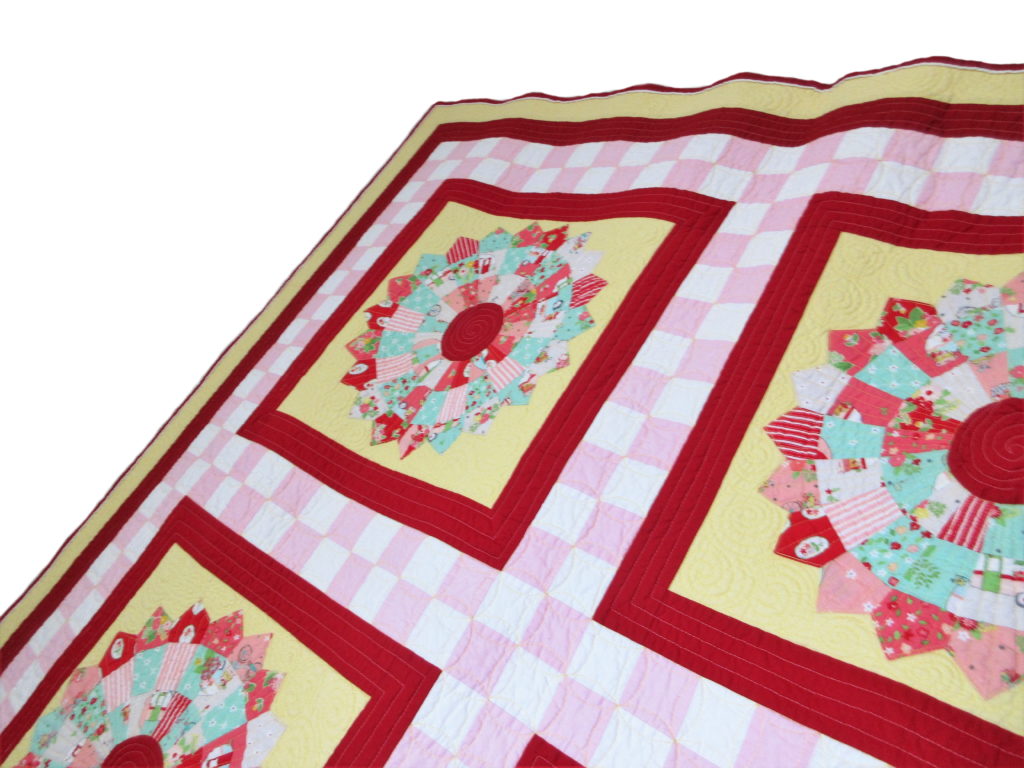 So there it is, my one and only Dresden quilt! I will definitely have to make another, but not anytime soon. If you are interested in this quilt, it is listed in my online store. Stay crafty!