I was checking out scrappy quilts on Pinterest and saw a String Star Tutorial from Coriander Quilts. This was the perfect block to use up some of my scraps. I cut some of my scraps down to 1 inch strips and use them up for foundation paper piecing. My go to, is my Foundation Paper Pieced Log Cabin, but this was a nice change.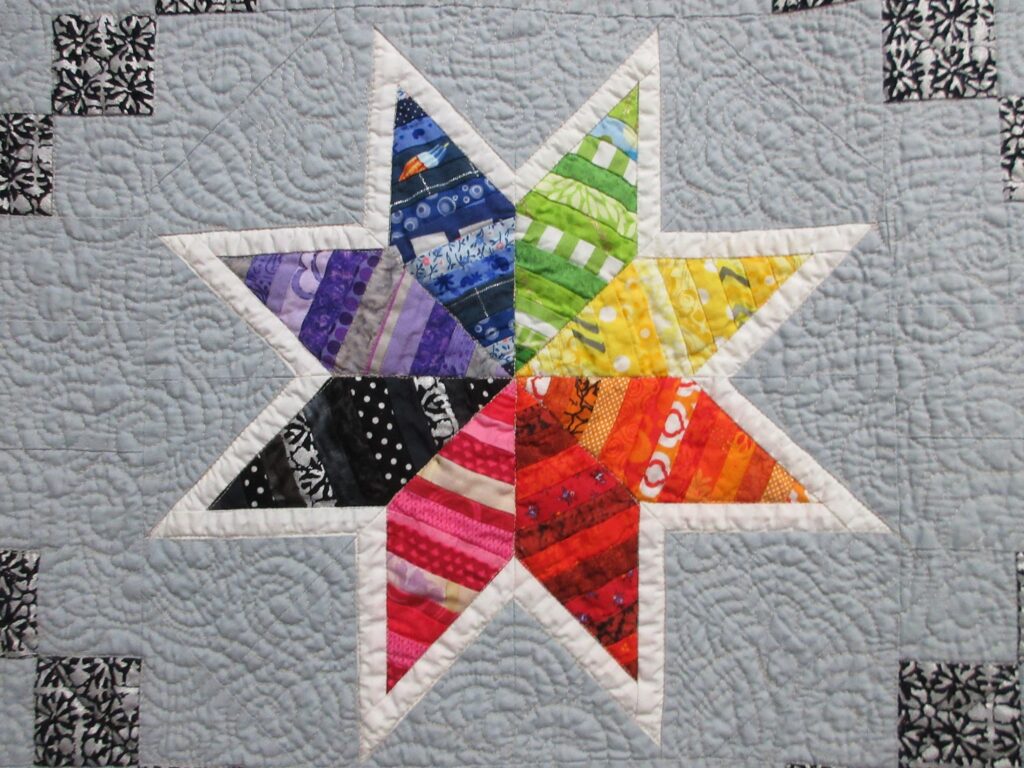 I chose a rainbow scrappy pattern instead of an all over scrappy design. I started some of the blocks a year or two ago, but this past Pride Month, I was determined to finish it! I altered the pattern a bit to make the stars pop by adding a 1 inch strip of white on the one side of the diamond.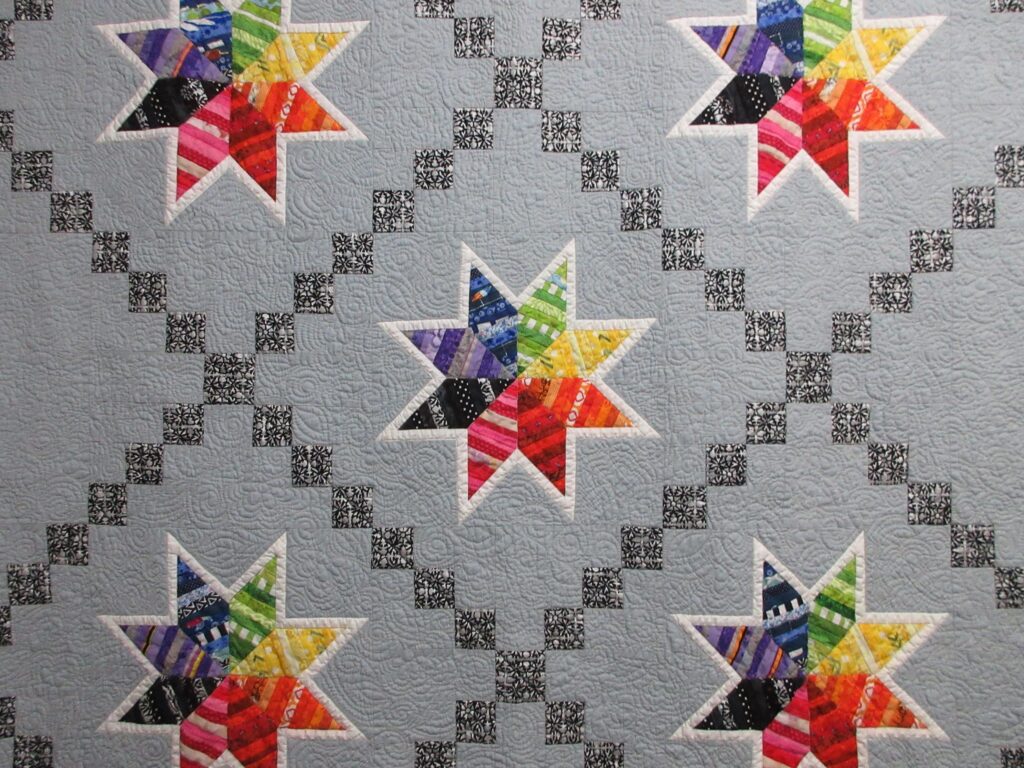 Once I had 5 stars, I alternated them with a continuous chain design. Because it was a modern quilt, I used a blue-gray background and metallic black and silver for the squares.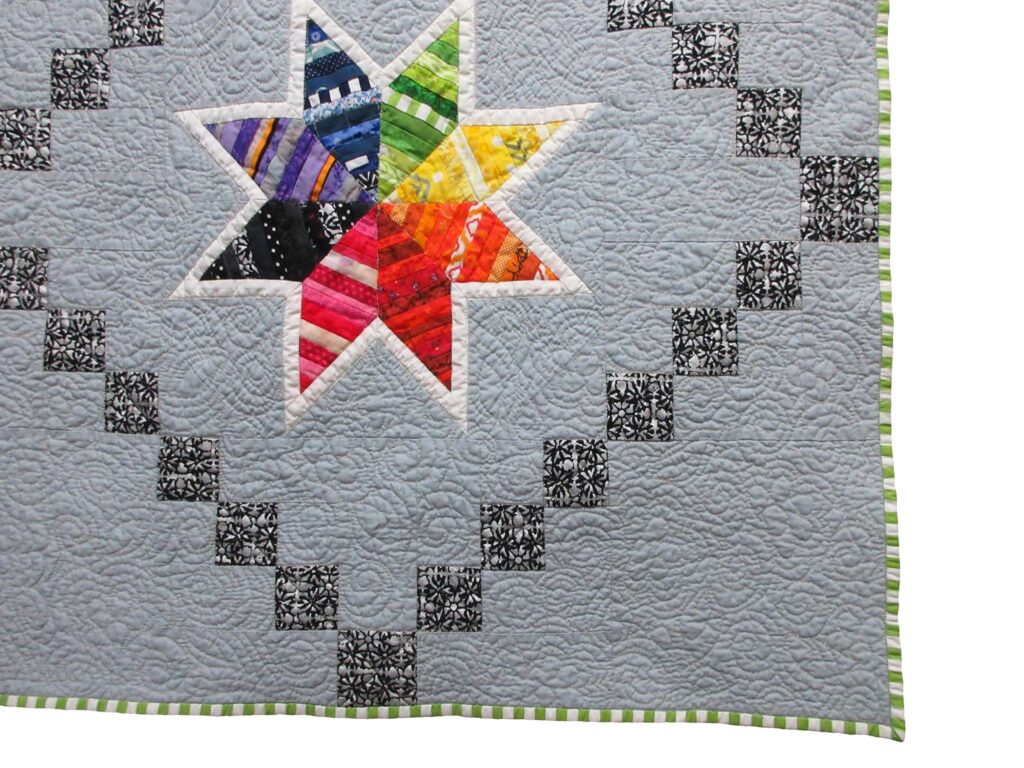 I halved the chain blocks along the edges of the quilt to finish the chain. This is my first time doing this and I love the finished look of it.
For the quilting, I did straight line quilting around the stars and through the black, chain squares. This helped me secure the layers for free-motion quilting. I usually quilt with both straight lines using a regular foot and then adding free-motion quilting afterwards. I find this method minimizes puckers on the backs of quilts.
For the free-motion quilting, I alternated with swirls, paisleys, and flowers. This is a technique I learned from Christina Cameli from A Few Scraps. It gives a nice all over design but keeps you engaged because you're constantly changing the pattern.
I used a simple blue, floral pattern on the back. I used this fabric, mainly because it was what I had on hand and didn't run to the store. I think it was a good choice and I liked how it turned out.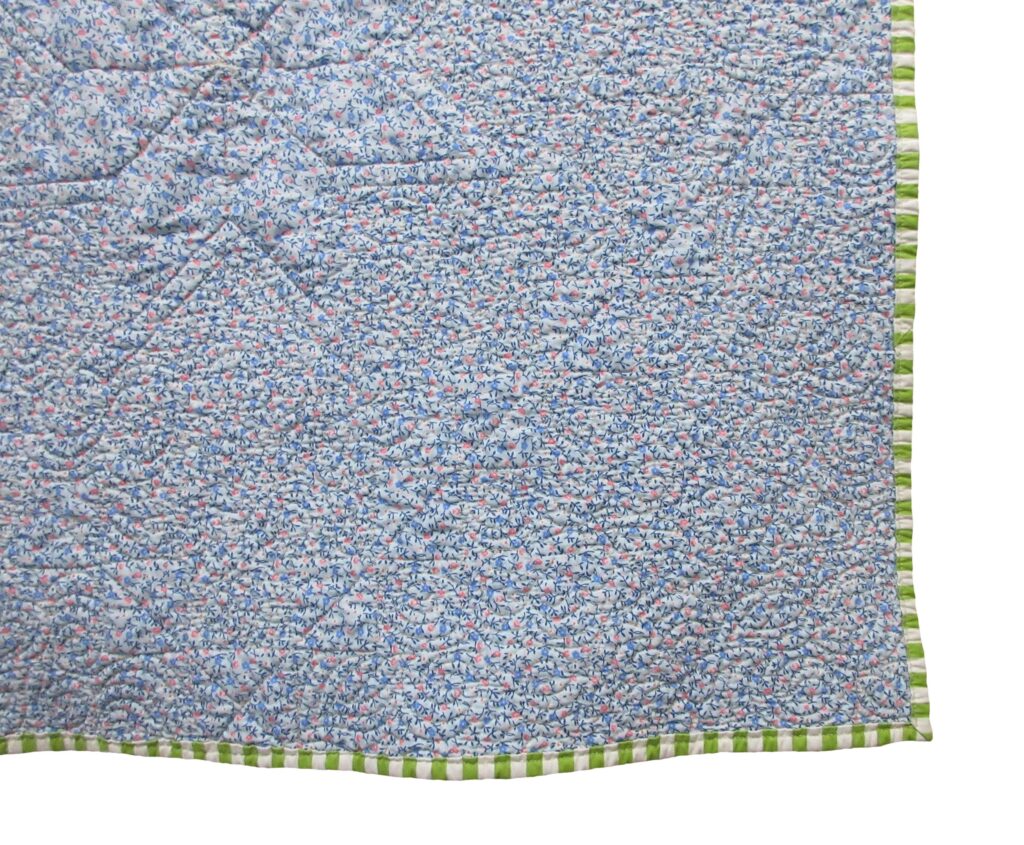 Of course for the binding, I used a striped green and white. This is one of my favorite bindings but I need to order more of it, I'm starting to run out!
So there it is, my finally finished Scrappy Rainbow Star Quilt! I loved how it turned out and I only used the fabric I had in my stash. What a great finish! If you are interested in purchasing this quilt, you can visit my online store or Etsy store.
Thanks for looking and I hope you make your own scrappy quilt! Stay crafty!