When I first picked quilting up again as an adult, I wanted to make some cute, cozy baby quilts. I felt so bogged down with work and school, I really needed a creative outlet. So, my boyfriend and I went to Joann Fabrics to pick out some adorable fabric. We decided baby quilts should be soft, so we bought some flannel fabric. Well, being a novice quilter again, flannel wasn't the best choice.
If you have never worked with flannel, here's a hint, it stretches and stretches and… stretches! I also had no idea that starching your fabric before using them gives them "body," meaning the fabric is stiffer, making it easier to work with. The other thing I didn't know of is how stretchy cutting on the bias is. My goodness, looking back, I really had no idea what I was doing 🙂
So there it is, my first completed quilt in years, waving right back at you! This baby definitely didn't want to lie flat and also had some crazy free motion quilting going on. I cannot tell you how many needles I broke because I didn't know what I was doing. But that's how it goes with your first few quilts. The learning curve is incredible, but you love it and keep going. This quilt ended up being a gift for a coworker. They thought it was amazing, so that's all that matters.
I tried to redeem myself and use up the leftover fabric I had. Being a new quilter again, I bought way more fabric than I actually needed. So here goes the second time around….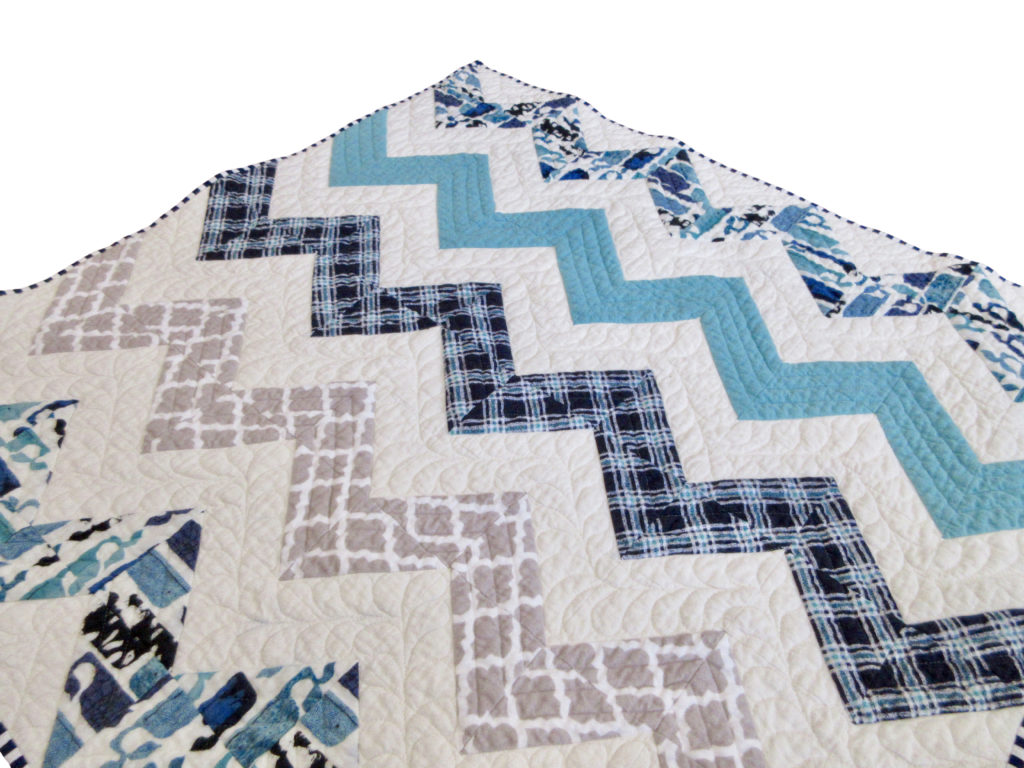 Not only did my quilting skills improve, but my photo skills improved too! I made the blocks smaller and did not cut them on the bias. The quilt still wants to wave to you, but not nearly like the other one.
I also tried to use up all the fabric for the back of the quilt. When I first started, I thought the back had to be solid.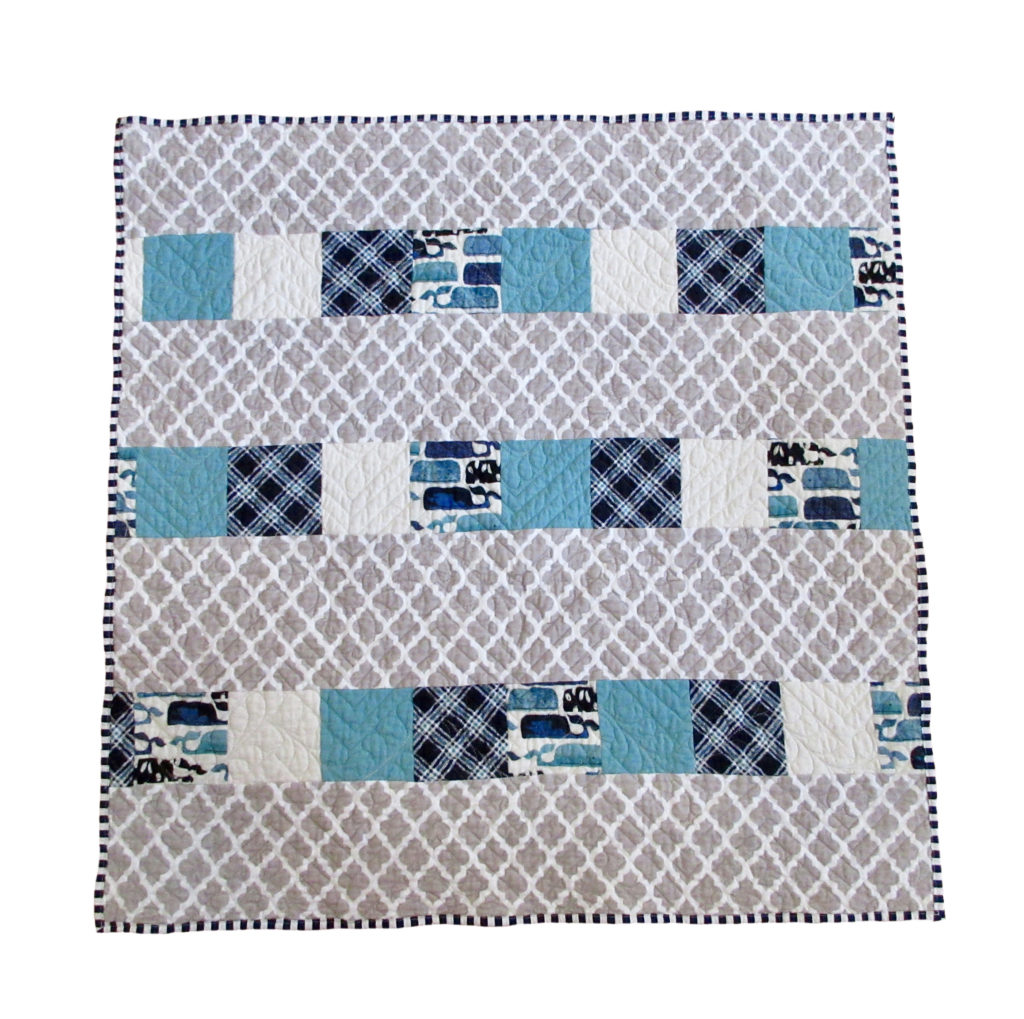 That is definitely not a solid back! 🙂
I'm also proud to say that my free motion quilting skills have drastically improved. I quilted some feathers in the background and did some simple straight line quilting on the patterned fabric. It really gave the quilt some lovely texture and the flannel made it so soft.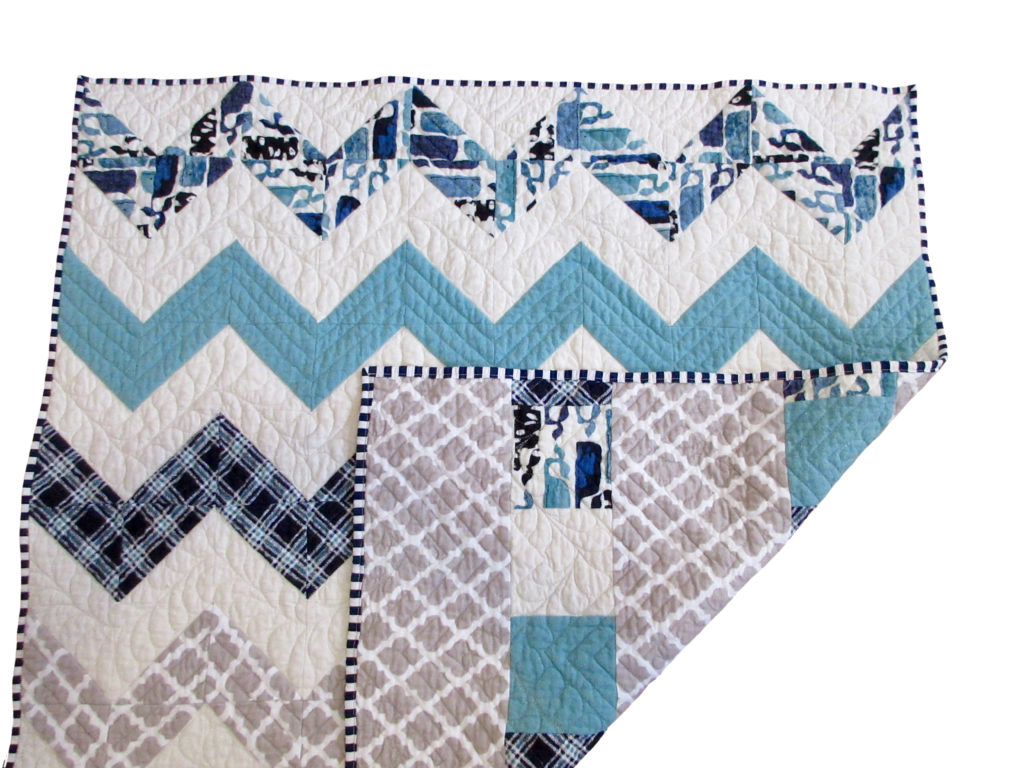 So there it is, my first attempt at creating a Chevron baby quilt and my second attempt. I think it's good to look at where you started and pat yourself on the back for the improvements you make. Who knows where you'll be in the future? Maybe in a few more years I'll do a third attempt and see all the progress I've made!
I challenge you all to look back at your old quilting pictures. I know it's hard and you may have a critical eye like me, but be proud of where you came from and where you are now. Hopefully it'll inspire you so quilt some more and keep creating! Stay crafty!